Theatre Cafe
APT's 2017 season of Theatre Cafe takes place on 3rd Thursdays at the Allentown Art Museum.

November Theatre Cafe – Audience Choice!
Coming Clean
An interactive theatre program to help young people process the impacts of the heroin epidemic.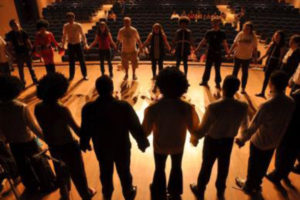 The votes are in! Join us at 6:30pm on November 16 at the Allentown Art Museum for an interactive theatre experience addressing issues surrounding the current opioid crisis.
We'll present a sample of our program, Coming Clean, which we developed over the past year for middle and high school students. It draws on the disciplines of Theatre of the Oppressed (Forum Theatre and Image Theatre) to empower audience members to participate as brain-stormers and problem-solvers – both on stage, and in their own lives.
This is a chance for you to get a behind-the-scenes look at the work we're doing in the classroom, for us to get your feedback about how to do it better – and for us all to grow together in our understanding of this important issue.
Museum admission is free after 4pm on Theatre Cafe nights.
WHEN: November 16, 2017 – 6:30pm
WHERE:  Allentown Art Museum of the Lehigh Valley, 31 N. 5th St., Allentown, PA 18101
ADMISSION: By donation only*
*To make a donation, click HERE.
For info about December's Theatre Cafe, click HERE.
Voices of Conscience: Toward Racial Understanding
Visit our new website at www.lehighvoc.com!