Wendy, An Adventure in Neverland
at St. Luke's Lutheran Church (417 N 7th St, Allentown, PA)
Allentown Public Theatre's new and original take on the story of Peter Pan, played by 3 of APT's own Ensemble Members!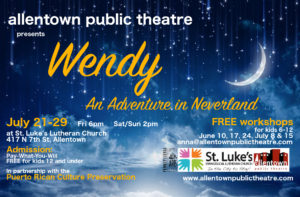 Dates/Times:
6:00pm July 21 & 28
2:00pm July 22, 23 & 29
Join us for our 5th annual summer children's programming at St. Luke's Lutheran Church!
Presented in partnership with the Puerto Rican Culture Preservation.
Admission:
Pay-what-you-will for adults
FREE for children 12 and under
More info HERE.
FREE Summer workshop series
at St. Luke's Lutheran Church (417 N 7th St, Allentown, PA)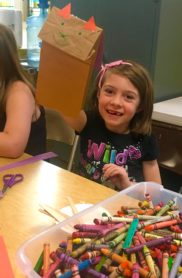 10:00am-12:00pm Saturday mornings:
June 10, 17 & 24
July 8 & 15
For kids ages 6-12.
Children will get the chance to play theatre games, make props, and rehearse parts in APT's upcoming performance of Wendy: An Adventure in Neverland at St. Luke's Lutheran Church.
If interested, please email anna@allentownpublictheatre.com
More info HERE.
Upside Allentown Artist in Residency Program

Allentown Public Theatre is proud, through the help of Upside Allentown, to be bringing Wendy, An Adventure in Neverland and accompanying workshops to several additional locations in the Jordan Heights neighborhood!
All workshops and performances are offered FREE of charge to children and adults alike (workshops recommended for children ages 6-12).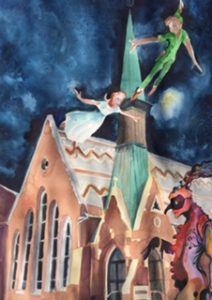 Catch our Peter Pan play at 4 additional host locations throughout the summer:
Grace Episcopal Church (108 N 5th St, Allentown, PA)
Workshops June 21, 22 & 23 @ 9:00am-11:00am
Show June 25 @ 2:00pm
Sacred Heart Church Rectory (336 N 4th St, Allentown, PA)
Workshop July 5 @  10:30am-12:00pm
Workshops July 6 & 7 @ 12:30pm-2:00pm
Show July 9 @ 4:00pm
Union Baptist Church (302 N 6th St, Allentown, PA)
Workshops August 3, 4 & 5 @ 12:00pm-2:00pm
Show August 6 @ 4:00pm
More info HERE.
Theatre Cafe
Back for the second year running, APT's 2017 season of Theatre Cafe takes place the 3rd Thursday of every month at the Allentown Art Museum of the Lehigh Valley.

More info about the series HERE
Rough Magic
By Roberto Aguirre Sacasa
Directed by APT Ensemble Member Louise Howard
Join us in the downstairs Community Room of the Allentown Art Museum at 6:30pm Thursday, July 20 as we read Sacasa's adaptation of Shakespeare's The Tempest. Set in modern-day New York City, Rough Magic is an action-adventure fantasy in the tradition of Harry Potter and the X-Men that conjures a mythical, magical meta-universe you won't forget. Museum admission is free after 4pm on Theatre Cafe nights.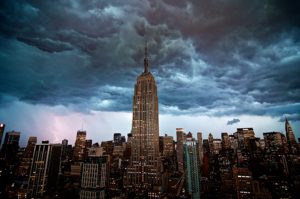 WHEN: July 20, 2017 – 6:30pm
WHERE:  Allentown Art Museum of the Lehigh Valley, 31 N 5th St., Allentown, PA 18101
ADMISSION: By donation only*
*To make a donation, click HERE
Voices of Conscience: Toward Racial Understanding
Visit our new website (with more details on the following events) at www.lehighvoc.com!