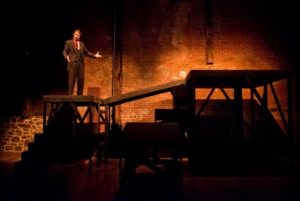 Allentown Public Theatre was founded in 2008 and designated non-profit in 2009. Since then, APT has produced a full array of theatre programming in downtown Allentown. During the 2016 Season, under the guidance of artistic director, Anna Russell, the theater began its transition into a diversity-based artistic enterprise expressly dedicated to the people, needs and cultures of inner-city Allentown. We are committed to carrying out the theater's priorities under our title:
Allentown – We are committed to serving the Allentown's diverse inner-city community and facilitating its growth as a culturally vibrant place.
Public – We believe that theatre should be accessible to all kinds of people, regardless of race, socio-economic status, sexual orientation or gender identity.
Theatre – We focus primarily on applied theatre – theatre in which the social mission of every project comes first. This means addressing specific issues such as opioid addiction, social equity and criminal justice reform.