Our Mission
"Allentown Public Theatre is dedicated to empowering our diverse communities through the performing arts. We expand opportunities for cultural participation and education in theatre, and create works that address contemporary issues."
Meet APT
Our Ensemble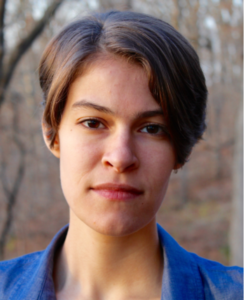 Anna Russell
APT Managing Artistic Director and Ensemble Member
Anna has led Allentown Public Theatre since 2015. She graduated from Haverford College with a Theater major and a Film minor from Swarthmore College as well as a concentration in Gender and Sexuality Studies. While in school, she completed production and dramaturgy internships with Theatre for Transformation in Lancaster and the Wilma Theatre of Philadelphia.  She also spent time in Germany studying postcolonial theatre and the techniques of Augusto Boal's Theater of the Oppressed at Humboldt Universität zu Berlin and working with the Interkulterelles Theater Zentrum Berlin. After graduating, Anna worked briefly as a dramaturg in Philadelphia before coming to the Lehigh Valley in fall of 2014 to work as an apprentice at Touchstone Theatre. Since then, she has produced an original one-person show focused on Revolutionary War soldier Deborah Sampson: An Address Delivered With Applause, as well as APT's The Island, Robin Hood and Then Athena. She founded the Voices of Conscience: Toward Racial Understanding arts series in fall, 2015, as well as the Theatre Cafe reading series. In addition to working with APT, Anna works with Mock Turtle Marionette Theater.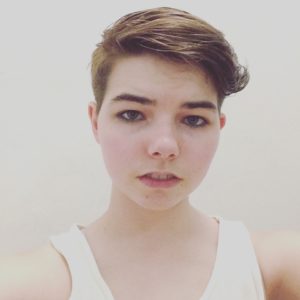 Willow Reichard-Flynn
APT Ensemble Member
Willow joined APT's Ensemble in 2016 after having participated in APT's summer production of Robin Hood. Willow is a graduate of Charter Arts and has just finished their first year of study at the Experimental Theatre Wing in NYU's Tisch School of the Arts. They have most recently participated in "Currency," a dance piece featured in WAXworks, Charter Art's production of Metamorphoses, and Touchstone's Christmas City Follies. Willow has also directed several shows with Old Milk Theatre Company, and has written A Play About Aliens, which was produced in Charter Arts' New Play Festival.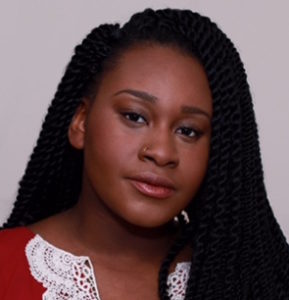 Chloe Cole-Wilson
APT Ensemble Member
Chloe first worked with APT as a dramaturg and choreographer for the company's production of The Island in April 2016 before becoming an Ensemble Member in fall of the same year. She is a theatre major at Northampton Community College as well as a professional poet and dancer.  She is Artistic Director of Basement Poetry, a new Lehigh Valley-based performance company.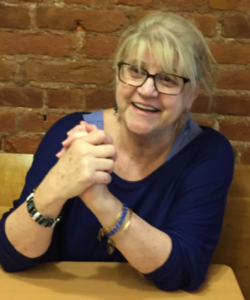 Louise Howard
APT Ensemble Member
Louise originally came to APT in 2015 as a devising participant in the original production of Then Athena, joining the company ensemble in 2016. Louise appeared Off-Broadway as Loretta Black, Josephina Vitale and Grandma Nunzio in the now legendary immersive theatre experience Tony n' Tina's Wedding, as well as in the national tour and at Arts Quest in Bethlehem, PA. Her numerous regional acting credits include The Best Little Whorehouse in Texas, Fiddler on the Roof, State Fair, Cinderella, Lend Me Tenor, Damn Yankees and Moon Over Buffalo (all at Bucks County Playhouse), Play On (Montgomery Theatre Project), Snow Over Bethlehem (Pennsylvania Youth Theatre), Nirvana & Vibe (Philly Fringe), as well as working and creating devised theatre works with the revered Bread & Puppet Theatre, Teatro Pregones (Bronx, NY), and Agua, Sol y Sereno (Puerto Rico). Her TV work includes principal roles on Forensic Files, an MTV promo for Christina Aguilera's Dirrty, as well as the History Channel. Her film work includes the feature Fading. She holds a BS in Spanish from Kutztown University and an MA from Middlebury College in Spanish Literature and Language.
Our Board
Doug Roysdon – APT Board President
Deirdre Johnson – APT Vice President
Troy Brokenshire – APT Secretary Treasurer
Andrea Hunt-Castillo – APT Recording Secretary
Norberto Dominguez
Anna Russell
Artistic Director Statement
"There is a word for art that looks beyond itself toward a higher truth on behalf of the people: public.  Allentown Public Theatre has been committed to creating high-quality art that not only pushes boundaries and 'makes people talk,' but is accessible to all.
As Artistic Director, I will continue to strengthen our commitment to this mission. We will stretch ourselves creatively, we will engage difficult issues, and most importantly, we will never lose touch with the public we intend to serve. As director Anne Bogart has said, 'Theatre is a gym for the soul;' so let's both, artist and audience alike, begin the work-out."
Our History
Allentown Public Theatre was founded in 2008 and designated non-profit in 2009. Since then, APT has produced an array of theatre programming in downtown Allentown. We are committed to carrying out the priorities demonstrated in our title:
 Allentown – we are committed to serving the Allentown community and facilitating its growth as a culturally vibrant place.  We do this through site-specific work that engages Allentown's history, current events and needs.
 Public – we believe that theatre, both in creation and in attendance should be accessible to all kinds of people, regardless of race, socio-economic status, sexual orientation or gender identity, and we are committed to including Allentown's many diverse communities in our work and at our events.
 Theatre – we focus primarily on applied theatre – theatre in which the social mission of every project comes first.  This means serving the people of Allentown by responding to specific needs such as heroin addiction prevention, school violence prevention, and criminal justice reform.